Things have been so crazy lately, but I am definitely looking forward to a much-needed break from school and trying to get things in order. Here's some things that have been happening in no particular order:
I took my last exam last Friday. I didn't do as well as I wanted to, but I still did okay. More than anything, I am just glad school is over.

I am still working with Andrew, a 4-year old with Autism. I absolutely love every minute I spend with him. He is the cutest little boy and I learn as much from him as he does from me. I was also so blessed to have his family invite me for Thanksgiving and had a great meal with them.
When I was in high school, I babysat for a family with three girls. I got very close to them and always try to stop and visit them and everytime I'm home. I stopped by on Monday, and Cyndi, the girls' mom, wrapped all my Christmas presents for me. I am so thankful. One day I will learn how...

I basically picked all of my Christmas presents this year and made everyone tell me what they want. I figure if we're both spending the money, we might as well get what we want, right?

Part of my gift from Mama is a new cell phone which I ordered last night and will get to pick up next time I'm in Greenville... Christmas Eve.

At church a few weeks back, I was challenged to take off my shoes and give them to someone who needed them more. I donated my shoes, along with 750 other people, and helped someone in my city be a little more comfortable and warmer this winter. I also bought a pair of Toms. I had never heard of these before, but it turns out they give a pair of shoes to a child who needs one for everyone you buy. So my friend Lauren and I got some awesome red ones: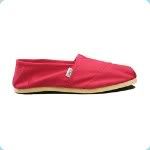 Lena, the sweet lady who does my nails, gave me a free pedicure for Christmas. If you live in Columbia, you should definitely go see her at

Capital Nails and Spa

.

I almost finished with my Christmas shopping... still have to get Mama some laundry detergent (what she wanted), pay for Daddy's gift that I ordered today, and get my Grandma a giftcard to Bojangles since she eats there almost every morning. She's too cute.

As much as I love Christmas and am looking forward to this break from school, I am so ready for the Holidays to be over at Old Navy. We open everyday at 8 and don't close until 11. What a joke. Which means I either have to get there at 7ish or stay until midnight and neither of those fit into my sleeping schedule too well.

I am so thankful that God has taken care of me in these stressful times and really answered so many of my prayers. He will never stop amazing me.
That's about it for now... just hoping to accomplish my list for tomorrow:
- meet with my advisor about taking a self-paced class to go ahead and knock out another class i need before i graduate
- going to work with andrew for a little while
- have to hit up walmart for some christmas cards, ham, and diet coke
- have to send off my time card for work
- maybe going to mac to look at the chill collection
Merry Christmas and Happy Holidays!